Classes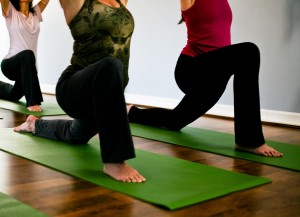 Advanced registration for drop-ins is unnecessary.
Beginner Classes
Learn basic standing, seated and supine poses with attention to precision of movement and body alignment. Explore yogic breathing and linking breath with movement. Build strength and flexibility in the entire body through repeating a series of basic yoga poses each week. Poses are added to the series as the session progresses. Under guidance of the teacher, modify poses to increase flexibility. Hold poses longer to build strength as the session progresses.
Yoga for Teens: Now Every Thursday
Thursdays from 4:45-5:45 pm
Whether your teen is facing exam stress or preparing for team sports, this class will help both physically and mentally. Designed specifically for youth ages 11-15, this class will introduce your teen to yoga poses and breathing exercises to help them combat stress and boost focus.  Led by Jen Mayotte.  No yoga experience necessary.  $105 for all 7 classes. Pro-rated session enrollment available!
If your teen is coming to class without you, or you want to purchase a class for your teen's friend, you can do so here!
Beyond Basics and RISE & SHINE
Refine poses learned in 'Yoga Basics.' Learn standing, seated and supine poses that develop balance, increase flexibility in the hips and hamstrings, and poses that build strength in the upper body and core. Hold poses longer and build sun salutations to build stamina and deepen breath awareness.
Intermediate Classes
A dynamic class that focuses on building strength, increasing flexibility, and preparing the body for a deeper practice. Increase flexibility in the hips, back, and hamstrings while strengthening the abdomen, back, and upper body through standing poses, balancing poses, forward bends, back bends, revolved poses, and hip-openers. Focuses on precision of movement to maximize the benefits of poses. Modify poses as flexibility increases and hold poses longer to build strength as the session progresses. Arm balances and inversions (headstand, shoulder stand, and handstand) are introduced with step-by-step instruction. Explore breathing techniques.
Build strength and stamina by flowing from pose to pose in this moderately-paced class. Emphasis is on sun salutations, maintaining steady yogic breathing, standing poses, seated poses, and twists. In this fun, flowing class poses are linked together in sequences that focusing on pairing breathing with movement to stretch the body while releasing tension and clearing the mind. Poses may be held between flow sequences to build strength.
Yoga for Strength (Some yoga experience helpful)
This class combines traditional yoga poses & breathing techniques with functional movements designed to build strength in your whole body. Emphasis is placed on training your muscles to work together to prepare them for daily tasks, sports, or work. Each class is designed to build strength in areas that lead to improved stability, balance, and focus. Students are offered a variety of modifications in order to challenge themselves, at their level, with the guidance of the teacher.

Advanced Classes
Advanced Yoga (90 minutes)
This class is geared toward students of yoga who wish to explore a wider range of asanas and experience the broader benefits of their practice. Students focus on seven fundamental advanced asanas and then, when ready, learn and practice a number of more challenging postures. They also discover the value of self study by working through several short home practices each week. Those who wish to start this course should have completed at least two sessions of intermediate level yoga or the equivalent. They should be able to balance in headstand for at least 1 minute near a wall, stay in shoulder stand and plow for at least 2 minutes each, and have some experience with basic arm balances, twists, hip openers, seated forward folds, and backbends.
Specialty Classes
Therapeutic/Gentle Yoga (All levels welcome)
In this slow-paced class standing, supine and seated poses are done with the support of blankets, blocks, chairs, and other props. Emphasizes strengthening and improving flexibility, developing body awareness, and learning to move with proper alignment and support of props. This class may be appropriate for seniors, anyone recovering from minor injuries, and for those with chronic physical conditions. Beginners welcome!
Restorative Yoga (All levels welcome)
This quiet practice is about opening the body using props to support you in each pose. Since props, rather than your muscles support you, the effect is deeply relaxing and restorative. Beginners welcome.
Pilates (All levels welcome)
Increase your flexibility while moving through a series of movements specifically designed to build strength in the core muscles of your abdominals, low back and gluteals. This class emphasizes precision of breath and body movement with special attention to postural alignment, stability and strength. No previous experience with yoga or Pilates is necessary.
Meditation Mindfulness – Donation Based offering every Sunday
The classes expands upon the practice of mindfulness meditation and gives an overview of helpful means for working with thoughts, opening to difficult emotions, cultivating wisdom and deepening compassion towards yourself and others. Instruction is given in a secular, non-religious manner and are suitable for all levels of experience. Each class begins with a guided meditation, then instruction, opportunities for practice (sitting, walking or body scan) and closes with a discussion/question & answer period.
This 30 minute functional fitness class is designed to help you on your path to a healthier & stronger, you! The class uses a combination of weighted medicine balls and your own body weight to help you gain strength, balance, cardiovascular fitness, agility, and muscle tone. In this small group exercise class, close attention is given to alignment and proper form. No yoga experience necessary. This class is done barefoot.
Yoga for Addiction Recovery (No yoga experience necessary)
This donation-based class provides a powerful framework for integrating the wisdom of yoga and the practical tools of the 12-step programs. Open to anyone dealing with addictive thoughts or behaviors in their lives or those affected by the addictive behavior of a loved one. Class starts with a reading from appropriate literature, sharing our experiences (voluntarily) and then taking it to the mat for a guided yoga practice and meditation. No registration necessary. 2nd and 4th Saturdays of each month.