Our Teachers
Quality Instruction
Our teachers embrace the power of moving the body into alignment to improve flexibility and to increase strength, while reducing physical stress, tension, and pain.  Our highly-trained and experienced teachers articulate instruction so that students understand and apply principles to deepen their Yoga or Pilates experience.
Yoga Teachers
Lynne Olsen, RYT 200
Lynne initially pursued yoga as an antidote to her stressful job as a Crime Scene Technician.  It worked so well that in 2013 Lynne completed her 200-Hour Teacher Training at the Yoga Center of Columbia.  In 2014, Lynne decided to leave her previous occupation and devote her time to sharing yoga and fitness with others.  Lynne has been a longtime student of movement and exercise.  She is also a certified personal trainer, corrective exercise specialist, cycle instructor and rock climber.   In her classes, Lynne combines a careful attention to alignment with playfulness to create an atmosphere where students feel encouraged to explore and express themselves in ways that feel right for them.  In 2016, Lynne became the owner of Rolling Brook Yoga.
Vicki Bannister, E-RYT 200
Vicki began practicing yoga in 2000 to relieve stress. She quickly experienced yoga's physical, mental, and spiritual benefits. After practicing Hatha yoga for several years, Vicki completed a 200-Hour Yoga Teacher Training Program in 2009, which emphasized anatomy and physical alignment. In 2010, Vicki completed an extensive yoga immersion program to deepen her knowledge of yoga philosophy. Teaching with compassion and an open heart, Vicki believes that everyone can benefit from yoga, and that sharing her knowledge of alignment will lead students to a healthier body and mind, and a deeper understanding of the body. Vicki is Co-Founder of Rolling Brook Yoga.
Mary Catherine Kiehl, RYT 500
Mary Catherine has been practicing yoga since 2004. She initially came to yoga for strength and flexibility, and found that it also brought great peace and calm into her life. Mary Catherine, a physical therapist who works with special needs infant and toddlers, has been incorporating yoga into her therapy sessions for several years. In 2006, she completed basic training in "Yoga for the Special Child" and recently received training in yoga therapy for autistic children through the same program. She is a 2010 graduate of the 200-Hour Yoga Teacher Training Program at the Yoga Center of Columbia. Mary Catherine believes that the benefits of practicing yoga can reach into all aspects of our lives, as it balances our mind, body, and spirit and opens our hearts, enabling us to be fully present to the possibilities that life holds for us.
 Jennifer DeCrette Randle, RYT 500
(Jennyd57@cablespeed.com)
Jennifer found her practice when she suffered a serious back injury that required emergency surgery. During her recovery, she felt blessed and energized by the healing benefits of meditation and yoga which were critical to her physical and mental improvement.  She has been happily teaching since 2007.  In 2013 she completed her 500 hour advanced certification at the Yoga Center of Columbia.
In addition to yoga, Jennifer holds Balanced Bodies certifications in Pilates Mat and Reformer and a Moms in Motion certification in Prenatal Fitness.  Jennifer is passionate about offering modified yoga and Pilates to those who may have lost core power or flexibility due to pregnancy or other special conditions.  Holding a postgraduate degree in Modern Studies, she also enjoys incorporating the modern relevance of yogic texts and principles into her classes.
Jennifer began practicing meditation in 2003 as a way of managing her own postpartum pain and anxiety.  She stresses the central role of mediation in any asana practice in her yoga classes.  She believes that the practice of meditation honors the truest, most real part of ourselves which is our deepest consciousness.
Jennifer is devoted to creating a safe and experiential environment for her clients that honors awareness of the breath during moments of movement and stillness.  She encourages an appreciation for the importance of alignment through core strength, balance and flexibility — both on the mat and in life.  A lifelong student, Jennifer relishes time with her teachers and enjoys her journey as she refines and evolves her practice and teaching.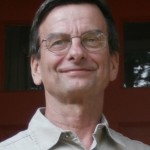 Joe Loehe, E-RYT 200
Yoga is a journey, a journey in which we discover and develop our whole selves.  Joe enjoys helping you to start and continue that journey by sharing postures, breathing exercises, and meditation techniques with you.  He teaches in ways that you will find both pleasant and invigorating.   He will help you to reach into your inner being, to strengthen and stretch your body, to lighten and open your heart and mind, and to come away from each class with a smile!  Joe has been practicing yoga since 2006 and has taught yoga since 2009 at the Carver Center for the Arts in Towson and at UMBC.  He completed the 200 hour teacher training course at the Columbia Yoga Center in 2008.
Patricia Barnes, MS, OT/L, RYT 500
Pat started practicing yoga as a teenager, teaching herself from books. In 2003, she received her 200-hour Yoga Teacher Certification from the Columbia Yoga Center, and in 2011, completed a 300-hour yoga therapeutics program at Yama studio in Baltimore. In addition to her yoga certifications, Pat is an occupational therapist, and has presented at numerous yoga and occupational therapy conferences. Pat has worked with students with arthritis, Parkinson disease, MS, musculoskeletal issues, cancer, anxiety, and depression. In group and private yoga sessions, Pat links breath with movement to reduce stress, decrease chronic pain, and increase positive energy. Pat guides students in modifications to discover their individualized expression of poses. She integrates breath work, mindfulness, restorative and yin yoga into her classes.
Cara McNamara, RYT-200  
Health coach and favorite yoga teacher of many, Cara McNamara returns to Rolling Brook. Cara blends her experience with mindfulness into her yoga classes to create an experience that cultivates each students ability to manifest their deepest intentions, and to live a satisfying and fulfilling life.
Heather Jefferson, RYT 200
Heather took her first yoga class at a gym in 2007, but didn't really discover yoga until 2010, when she experienced a serious bout of anxiety.  Yoga helped her find peace, acceptance, strength, and healing through movement, breath, and yoga philosophy.  After practicing for 4 years, she completed a 200-hour Power Yoga teacher training at Sid Yoga in 2014.  She later completed a 15-hour Yoga for Emotional Healing Certificate at Fit Yoga in 2014 and a 30-hour Yin Yoga training with Jessie Kates in 2016.  Heather loves yoga philosophy and brings inspirational teachings to her classes.  She encourages her students to let go of outside worries, calm the mind, and open their hearts to peace, compassion, self-love, and joy both on and off of the mat.  Her classes include gentle hands-on assists to help students delve deeper into their bodies.  Teaching yoga is Heather's dream job and she can't wait to share her passion with you.
Courtney Lewis, RYT 200
Courtney initially sought out yoga as a way to exercise and stay in shape. As her practice grew, she found herself coming to the mat more for the way yoga made her feel rather than for the more fitness-related benefits. She loved how she felt during and after her practice- how yoga not only affected her physically but also mentally, emotionally and spiritually. She began to crave the presence she was able to tap into during her practice.  She began to notice how her time spent on her mat affected her life off the mat. Her mind, constantly planning and worrying was more settled. She was much less likely to become agitated or stressed. The effects Courtney experienced through her practice were so profound that she felt called to share it with others. Courtney received her 200 Hour Jivan Yoga Teacher training through Baltimore Yoga Village and is a Registered Yoga Teacher (RYT 200) with Yoga Alliance.  She is currently pursuing her 300 hour Advanced Yoga Teacher Training through the Yoga Center of Columbia.  Courtney is a Licensed Massage Therapist and utilizes her 14 years of experience in that field to guide her teaching. Her classes emphasize the importance of alignment, stability and breath in order to create a foundation to mindfully flow and explore.
Beth Evans, RYT 200  
After 9/11, Beth Evans stopped sleeping. Desperate for something to relieve her insomnia and anxiety, she turned to yoga as a way to cope with stress and fear. She learned that yoga's quiet peace and joyful expressions were always present, no matter what life offered. In 2012, Beth completed Anusara Yoga Immersion at Capitol Hill Yoga in D.C. She went on to earn her RYT 200 in alignment-based Hatha yoga at the Yoga Center of Columbia in 2014. As a teacher, Beth delights in helping students discover new ways to open to yoga's grace, freedom, and strength. Happily raising four kids with her husband Trent, Beth divides her time between teaching yoga and working for Baltimore County Recreation & Parks.
Juliane Porter, RYT-200  
Juliane is a lifelong Yogi dedicated to transcending ego, and, to serving the body rather than competing with it. For as long as she can remember, her primary passion has been to awaken fully. Yoga is integral to that process! Yoga centers, uplifts and aligns the body, mind and spirit, providing a confidence, strength and breath awareness connection from deep within to the one love and universe. It brings awareness and health to the deeper organs of the body, unblocking stagnation, encouraging healthy energy flow and enabling us to live at our highest vibration. The gift of yoga can only be repaid with the same coin. In deep gratitude, Juliane dedicates her life to the service of sharing the beautiful gift of yoga with others. She has been practicing yoga asana, twice daily meditation and Zen Buddhism for over 15 years. She completed her 200 hour teacher training with Paula Tursi of Reflections Yoga in NYC.  Juliane also studied extensively under John Schumacher, a direct disciple of BKS Iyengar and one of only two Iyengar Masters in the US, in his advanced class at Unity Woods Yoga in Bethesda.
Diana Danaher, RYT-200
Diana Danaher lives in Ellicott City, and teaches alignment-based Hatha yoga, with playful, flowing sequences. In her classes, students will release tension and develop a balance of strength and flexibility. Diana aspires to deepen each student's self-awareness through yoga practice. Her class formats are diverse, including alignment- focused asana, vinyasa, and restorative asanas. Diana discovered the benefits of yoga when she began practicing over 10 years ago. She completed her yoga teacher training at the Yoga Center of Columbia and registered with Yoga Alliance at the 200-hour level in 2014. Diana is currently working to refine her yoga teaching skills in the 300-hour program at the YCC.
Jessica Jenkins, RYT-500  
Jessica's approach to teaching yoga is both playful and welcoming. Her intention is to offer strong alignment while integrating breath with movement. Each class is designed to enhance body awareness, strength and mobility, making it both challenging and calming at the same time. She is a long time practitioner and has been a registered yoga teacher (RYT 200) and prenatal yoga teacher since 2013. She received her training at The Yoga Center of Columbia, studying under Kathy Donnelly and Lucy Lomax, where she returned to deepen her studies, becoming RYT 500 December of 2015. Her prenatal training was done at Willow Street yoga where she studied Anusara yoga and completed the Willow Street Immersion Program, focusing on yoga philosophy, therapeutics, and meditation. Due to the guidance and warm-hearted nature of her teachers and mentors, Jessica aspires to always teach from a place of kindness, respect, and love.