FAQs
I've heard that there are different kinds of yoga. What kind of yoga do you teach?
We teach alignment-based, Hatha yoga which includes sun salutations, yoga poses, meditation, relaxation poses, and breathing exercises. Alignment-based yoga uses specific actions to move the body into and out of yoga poses. Practicing yoga with attention to how the body is aligned reduces the risk of injury, and improves strength, flexibility, and stamina while reducing physical stress and tension. Alignment-based yoga increases body-awareness and promotes a strong union between body, mind, and spirit.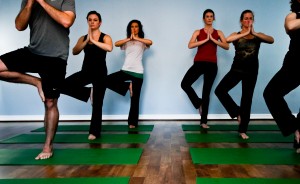 What are the benefits of Yoga?
Increased tone of every muscle in the body
Increased strength, flexibility, and stamina
Reduction of stress and tension in the body and mind
Weight loss
Improved concentration, balance, coordination, reaction time, and memory
Decreased anxiety, depression, and insomnia
Increased lung capacity
Pain reduction
Management of chronic conditions
Improved circulation and bodily functions
Improved posture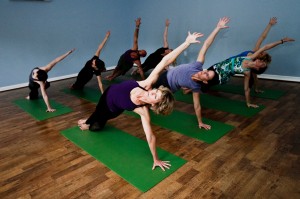 Will I get a workout from yoga?
Yes, yoga provides many of the same aerobic, muscle-toning, and cardiovascular benefits of traditional exercise. In addition, yoga does not have to be vigorous to provide these wonderful effects.
What do I need for a yoga class?
Wear clothes that allow you to move freely. Our studio has all the equipment that you will need for class. You may want to bring water and a small towel.
What should I know before my first class?
Do not eat right before class (a snack an hour before class is okay).
Arrive a few minutes early. Entering a class late is disruptive to other students.
Silence your cell phone.
For sanitary reasons, always remove your shoes before entering the studio area.
When you enter the studio, keep conversations to a minimum and speak in a quiet voice.
After class, wipe down your mat and neatly put away all items that you used during class.
Can I drop-in to a class, or do I need to sign up first?
You do not need to sign up to attend your first class. Just show-up! It is recommended that you arrive 5-10 minutes early to meet the instructor, discuss any injuries or concerns that you may have with him or her, and get a brief tour of the studio. The rate to drop-in is $18.00.
Do I need to have a health release?
If you have a health issue, check with your physician before practicing yoga. Before your first class, please inform the instructor of any health issues and/or goals for your yoga practice.
What qualifications do your teachers have?
Our teachers meet the highest training requirements. Each yoga teacher has completed 200 hours of training, or more, has several years of experience, and is a Registered Yoga Teacher (RYT).